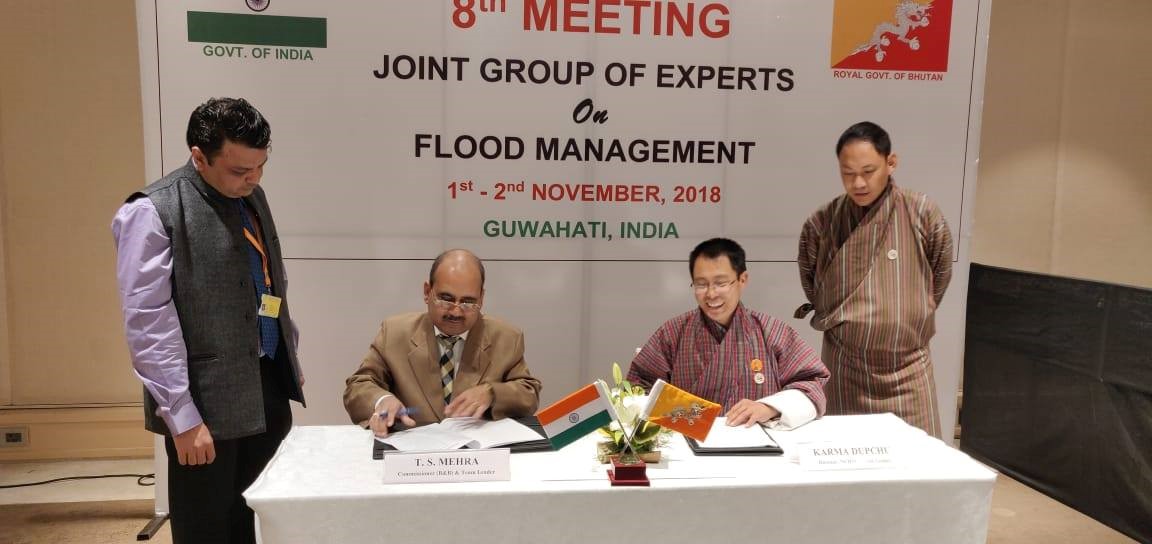 The 8th meeting of the Joint Group of Experts (JGE) on Flood Management between the Royal Government of Bhutan (RGoB) and the Government of India (GoI) was held at the Hotel Vivanta, Guwahati, India from 1-3 Novermber, 2018. The GoI delegation was led by Shri T.S. Mehra, Commissioner (B&B Basins), Ministry of Water Resources, River Development & Ganga Rejuvenation (MoWR,RD &GR), Government of India (GoI) and the RGoB delegation was led by Mr. Karma Dupchu, Director, National Center for Hydrology and Meteorology (NCHM), RGoB.
The JGE meetings are usually held once a year with Bhutan and India hosting the meetings on alternate years in their respective countries. The meeting is a bi-lateral forum to discuss and assess the probable causes and effects of the recurring floods and erosion in the southern foothills of Bhutan and adjoining plains in India and recommend to both Governments, appropriate and mutually acceptable remedial measures. The 8th JGE meeting discussed and reviewed follow-up actions taken in two earlier meetings ( viz. 7th JGE meeting held from 19-20 April, 2017 in Thimphu, Bhutan; and 5th Joint Technical Team (JTT) meeting held from 26-27 April, 2018, Phuentsholling, Bhutan). The meeting also discussed on the recommendations made during those past meetings and other issues mutually agreed between the two sides during the meeting. The meeting was held in the most friendly and cordial manner.
The next JGE meeting is expected to be held in Bhutan in April, 2019.
Issued by NCHM 06 November, 2018